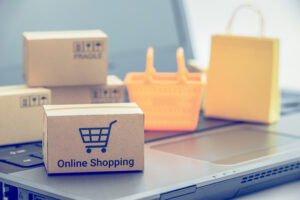 Pandemic Buying Habits that Are Here to Stay
Over 2 million Americans per day are getting a Covid-19 vaccine (March 2021 data). Infection rates continue to fall. This progress has us looking ahead to the post-pandemic future.
Research shows that many of the buying habits the pandemic caused are expected to be permanent. Here are a few trends that are likely here to stay.
Increase in online shopping
According to an analysis by Digital Commerce 360, consumers spent $861.12 billion online with U.S. retailers in 2020, up 44.0% from 2019. Online spending represented 21.3% of total retail sales last year, compared with 15.8% the year prior.
As many states, counties and towns continue to reopen, online shopping remains strong.
A Shopify.com study showed that 40% of buyers said an easy-to-navigate website made their online shopping experience a positive one.
DPA Impact can help with all your digital needs. Whether you're new to e-commerce or needing improvements to your existing online presence, we can create for you an online experience that is tailored toward your unique needs. 
We will help you evaluate what's working for you, what's not, and how to improve it. We recognize the importance of earning the trust of your customers. Let your website tell the personalized story of who you and your business are and what you offer.
Let us assist you in making a great first impression with a professional, welcoming homepage, and create product/services pages that present your business in its best light.
Learn more at https://dpaimpact.com/services/.
Support for local and independent businesses
Many small and local businesses saw an increase in support from their communities amidst the global pandemic.
Research conducted by Shopify.com found that 46% of buyers in the US and Canada said they made purchases from local, independently owned businesses since the pandemic started. 79% of those people said they did so to support their communities or protect local jobs. In our next blog post we will discuss the rise of local business support in more detail.
     3.    Delivery volume will soar.
2020 saw a rise in local delivery, curbside pickup, and delivery of online purchases. Now that customers are familiar with ordering delivery in general, they're likely to use it more than ever before. Experts say to watch for consumers to start ordering delivery in new areas, too.
No one could have predicted the craziness of 2020. The pandemic accelerated a shift in buying habits that were already taking shape. This reinforces the prediction that these trends are here to stay.
Businesses that can survive a global pandemic show their willingness to adjust to changing times. You are equipped to meeting your customers and potential customers where they are.
Let the DPA Impact team advance your brand acclimate to these changing times. Our team has decades of experience in marketing and business development. Our team's diverse experience will set you up for a successful marketing campaign of any scale.
Call us today to learn how we can help you prepare for a positive post-pandemic experience for your business.